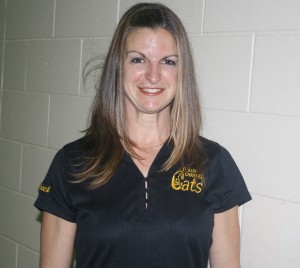 Meredith Thompson-Edwards "Mere" headcoach@orilliachannelcats.ca
Head Coach-coaches Gold, Jr and Sr Novice and Channel Kittens
Head Coach Meredith Thompson-Edwards has lived in Orillia her entire life and is now raising a family of her own. She has been coaching with the club since 1995 and competed in the sport for over ten years, during which time she qualified for many highly competitive meets such as Ontario Cup, Eastern Cup and Nationals.
Her position as an assistant allowed her to coach all age groups within the club. "Working with different age groups has enabled me to familiarize myself with the whole team, which is a huge benefit when planning group activities and encouraging group cohesiveness." Meredith feels knowing all of the swimmers will help to develop a more personable atmosphere which aids in
creating a positive fun environment for all involved. She currently coaches the Channel Kittens (entry level swimmers) Bronze and Gold training groups.
Meredith has worked along side her mother Elaine her entire coaching career, and admits it has been a very positive experience. "We both encourage the swimmers to be hard working, dedicated and supportive of teammates. Qualities that come natural for me because they were instilled at home my entire life."
In Meredith's opinion, competitive swimming enables children to improve social,
organizational and swimming skills. It creates opportunities to boost confidence and improve cardiovascular fitness level. These are all qualities that swimmers can continue to utilize into adulthood. "My goal as Head Coach is to continue to
provide a positive, fun and challenging environment that my swimmers can learn from and use in all areas of their life."
Meredith attended Georgian College in Orillia and obtained diplomas in the Developmental Services Worker program and the post-graduate Therapeutic Recreation program. She is a certified Level 2 Swim Coach, and has completed Level 3 Theory, Developing Athletic Abilities and Coaching and Leading Effectively modules through the National Coaching and Certification Program. Meredith is also a member of the "Orillia Old Poops Swim Club" and trains 6 times per week in and out of the pool. She holds the Canadian Record in Women's age 35-39 200 m breaststroke and competed at Masters Long Course World Championships in August 2014 placing 6th in 200 backstroke, 50 butterfly, 8th in 100 butterfly and 11th in 200 Individual Medley.
Orillia Channel Cats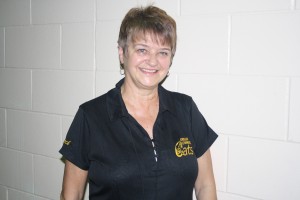 Elaine Thompson email Head Coach for contact number
Assistant Coach-coaches Silver, Jr and Sr Novice and Channel Kittens
Assistant Coach Elaine Thompson was born and raised in Orillia and
has been affiliated with the Orillia Y.M.C.A. since the age of 8. It was at the 'Y' that she developed her love of swimming. After completing the levels of the swim program she began teaching swimming at 12 years of age. When she was old enough she completed all the life saving courses and did some life guarding as well. She left the 'Y' after high school to continue her studies and get married. In 1974 she returned to the 'Y' when her children became involved in the programs. It was here that Elaine became very interested in Synchronized Swimming as well as a program for children between the ages of 6 months and 7 years. She was involved in the Under 8s swim portion of the program for several years as well as a Synchro coach for 18 years. In 1982 when her youngest daughter, Meredith became a member of the Orillia Channel Cats swim club Elaine was asked if she would be interested in helping coach some of the younger swimmers on the team. At first she thought it would be too much as she was still heavily involved with the Synchro Club. But as fate would have it she decided to give it her best shot and has been with us 30 years.
Elaine feels that children who participate on swim clubs develop a very good level of overall physical fitness and co-ordination, which facilitates them becoming accomplished all-round athletes. She feels that swimming is one of the best sports to condition the body's cardiovascular and muscular systems. Competitive swimming is a very disciplined sport that emphasizes goal setting and time management which carries over into the swimmers' academic and social life as well as developing a child's self esteem and self-worth. Elaine is looking forward to yet another season with The Orillia Channel Cats swim team.
Orillia Channel Cats
Ken Elphick pamandken@hotmail.com
Novice Coach-coaches Jr and Sr Novice
Novice/Adult Coach Ken Elphick was born and raised in Oakville Ont. Along with his wife Pam he has 3 daughters and for now 6 grandchildren. He participated in the usual sports, soccer , football, and hockey, but didn't get involved with swimming until 2 of his daughters joined the Oakville Aquatic Club. Like most parents he found himself running around the province to various swim meets and decided to volunteer as an official. First as a timer, then meet manager then to the board of directors. Kens introduction to coaching started out innocently enough filling in for a practice while a coach was away. After a few more fillins he was asked if would be interested in coaching one of the novice groups. It only took one practice and he was hooked. Ken coached various OAK novice groups for the next 18 years. During the summer his daughters decided to take up flat water canoe sprint racing, first at camp Ak-O-Mak and then the Burloak Canoe Club. Ken decided to get involved in canoeing and became War Canoe coach at both Ak-O-Mak and Burloak. Kens coaching style is lots of technique , lots of patience, lots of fun but also lots of hard work. What he really enjoys is watching a swimmer who can barely swim a length, after a few practices rattling off full sets. Having a swimmer who just can't get that whipkick, suddenly one practice have it all come together. Watching a swimmer at their first meet overwhelmed by all the action, find that at the end of the day that hey this is a lot of fun. most of all he enjoys watching a swimmer that he coached as a novice still swimming as a 16 year old, hoping that maybe he positively influenced them just a little bit. Ken is very excited about the Channel Cats Swim Club, hopefully for the next 18 years or so.
Orillia Channel Cats
Tatum Haslem mermaidpinup12@gmail.com
Novice Coach-coaches Jr Novice and Bronze
Novice Coach Tatum Halem swam for the Oakville Aquatic Club for 8 years and then went on to become a Nat. Level canoer for Burloak Canoe Club. She received her first gold Medal at Nat. at age 14. After she was finished with canoeing she started to swim again, but this time around became a lake swimmer. Tatum was the first person to do a double crossing of Lake Couchiching and then went on to be the only person to do a four time crossing and a 35km swim which took her 11 hours and 40 minutes. Coach Tatum's next goal is to do the Sharkfest swim in San Francisco in two years. Tatum coached
gymnastics for 18 years and is so happy to be coaching the sport that's closest to her heart...swimming. She is also very happy to be working with her Father Coach Ken, as he
has been her main support system over the years. Tatum is currently a Lifeguard and Instructor for the Orillia YMCA.
Orillia Channel Cats